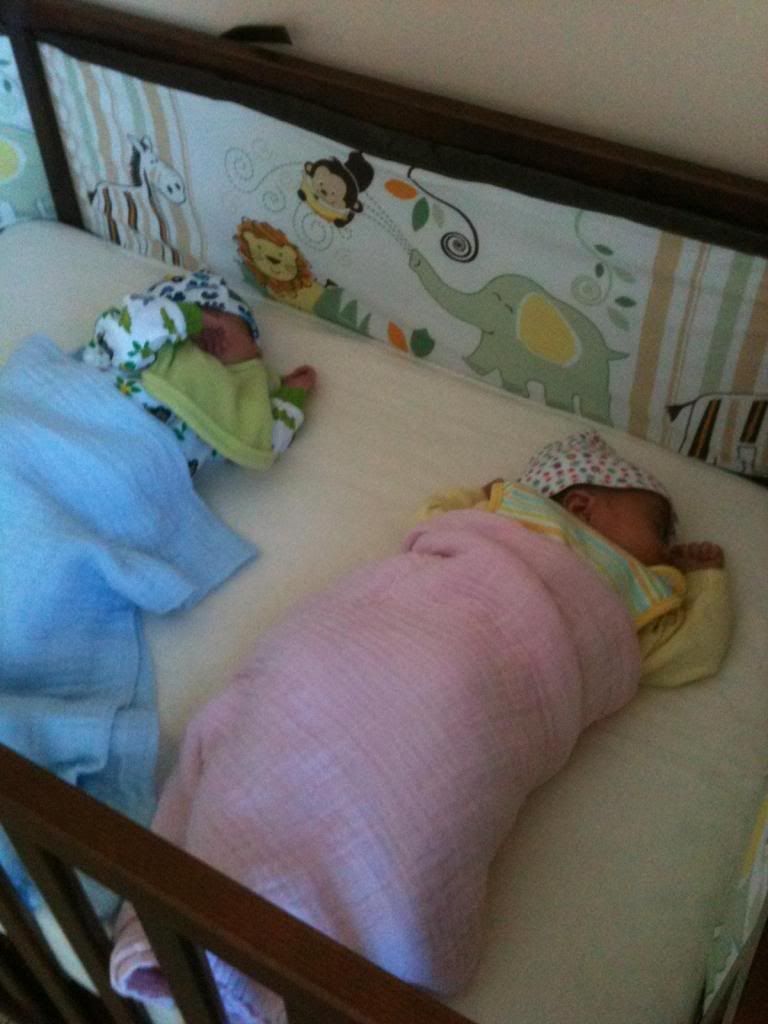 Baby C (in blue) and Baby E (in pink)
10 days old (already?)
What a special few weeks its been. The time with my IM who was in town for a week after the babies were born. Birthing two babies vaginally!! The Babies and their parents made the long flight home yesterday. I can't even begin to imagine how nervous they must have been to board that plane with two one week old babies on a 4 hour plane ride and just hoping that they didn't cry the whole time! My IM texted me after they landed and let me know that they made it and that the babies actually slept the whole time! Whew! I am so happy that they made it home and are going to begin their lives or at least trying to get some kind of normalcy to life- I cant imagine it was easy being here in Colorado wanting to share your babies with their families and friends and my IM was alone for 4 days while my IF went back home with her son to get him back to school. I am sure she is glad to have some extra help and just be in her own house!


Things have been going ok- I am pumping for the babies and am so happy that I can continue to help them out in this way. They were small- or at least Baby C was at just over 5 pounds at birth I feel confident that breast milk will help him grow strong. While the babies were here, I was able to take it to my IM every day and the babies got some each day- they have to share until I can get enough for two babies instead of one! Friday I ended up back at the Dr. I had a fever and my belly was hurting so bad it hurt just to take a step. Turns out I had an infection in my uterus! So I have been on antibiotics and am feeling so much better. Then on my Birthday which was Saturday my youngest got the stomach flu. So its been a rough week, but I am feeling much better today!

So- that's my story. I don't have to be back to work until January 29th, I am not sure I will take all that time, but its nice to know that I have it- should I need to. I would like to get my house in order and my Christmas put away-

I am also proud to report that this journey did not Ruin my children like some people thought it might. They are all fine and are as excited as I am when pictures come from my IM.

Love...That's all I can say- A different kind of love- but this journey was all LOVE!